I am writing the article to complement my vlog because describing London and its cohesive architecture & beauty in a limited number of shots is not enough.
Making videos and writing about my experiences simultaneously to make a clear and broader picture for my viewers and readers surely helps with the reader's experience!
Ever since I was kid, I have always been fascinated by London. I had an impression that all learned people of the Indo-Pak subcontinent studied in that one great city of The British Empire.
Naturally, I wanted to go and visit the place. Some of my relatives and a few of my friends studied there while it is a permanent abode for some others. Naturally, my fondness of history and London made a blend of virtual relationships comprising curiosity and admiration.
Finally, I reached the United Kingdom and observed the English people as polite and well-mannered. One of my friends, who lives in The East End of London area called Whitechapel, invited me and insisted that I stay at his place. I accepted the kind invitation and took The British Rail to London Victoria Station. My friend received me there and it took around 20 minutes to reach Whitechapel underground station. It was around 4 pm and to my astonishment, the sky had taken up its sunset hues already!
I realized that winter days are much shorter than in Pakistan. My friend's home was to the right of London Royal Hospital. We had dinner at Tayyab Restaurant just behind the Whitechapel Mosque. I noticed a very small building at the back entrance of the mosque with a David Star on the façade. It was a synagogue – a Jewish prayer place for its people. The proximity of the two worship places exhibited how members from different faiths and cultural backgrounds can live in harmony and peace without interrupting each other and their practices.
Nearby there was a very old and historical sixteenth-century Bell Foundry. The now-closed foundry was notable for being the original manufacturer of the Liberty Bell – a famous symbol of American independence, and for re-casting Big Ben, which rings from the clock tower, famously renamed as Elizabeth Tower in 2012, located at the North end of Westminster Palace in London.
Sunday morning encouraged us to head to Petticoat Lane to see the long-stretched street market there. My friend told me the story of Jack-the-ripper – an unidentified serial killer of at least five women in or near the Whitechapel district of London's East End back in 1888 and showed me the streets of Brick Lane where most of these murders are said to have taken place. I felt the horror that might have surrounded the narrow streets of Brick Lane, at the time when the crimes that remain an unresolved mystery had taken place.
We decided to walk down to the famous Tower of London and the iconic Tower Bridge. There are many myths about the Tower of London, like the presence of ravens (darker cousins of Pakistani black crows) on the Tower being a good omen for the kingdom and that London will fall if they ever leave the tower. The huge structure is well known for being home to the Crown Jewels. One of the most famous gems in its collection is the Koh-i-Noor – one of the largest diamonds in the world, weighing in at a massive 105 carats.
Well-known Queen Anne Boleyn – the second wife of King Henry VIII – was executed here and the executioner was brought from France as no one agreed to do the job.
The beauty and elegance of Tower Bridge is unmatched from centuries.
We decided to visit the London Dungeon as well – a place of horror where prisoners are kept and sometimes tortured with specially invented instruments for this purpose.
London has some most admired libraries in the world such as the British Library, Guildhall Library, Barbican Library, and more. I was keen to visit all of them and take some time out to enjoy a book on my favorite subject of traveling and exploring the world. I couldn't make it due to time constraints but I am committed to doing it in my several future visits.
So, I chose two of the many libraries for the time, the rarest one first, the Idea Store Whitechapel. You might know that each borough has its own set of libraries which is free to visit and to borrow books from, and all you have to do is give your proof of address to get a free library card. The Idea Store in Whitechapel is part of the libraries of the Borough of Tower Hamlets.
The second library for this tour was Barbican Library at the beautiful  Barbican Centre. We walked down from Moorgate Underground Station to enjoy the walk through the financial district in the City of London which is a small place as compared to Greater London on the map. The library was really impressive a place where every book lover should go, at least once! This is a borrowing library with a huge collection of books and reference materials for reading and research work as well. I spent half a day browsing through the sections of this great library.
The next day we went to the center of tourist attraction – Trafalgar Square. It was the most crowded place in London I'd visited so far, packed with tourists from all over the world. Hustling and bustling with all sorts of joys, I saw people feed pigeons, take pictures on the top of the lions' statues at the bottom of Admiral Nelson's Monument, and get sketched by the roadside talented artists for very cheap prices.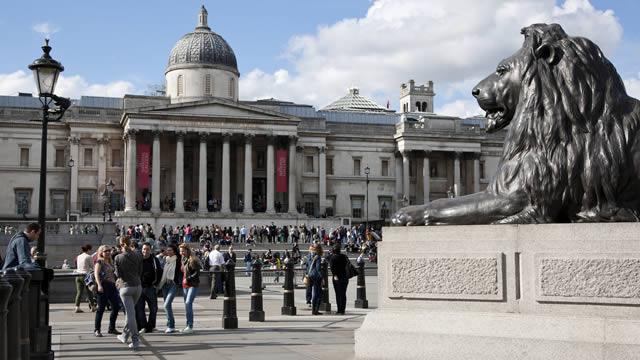 Somebody told me that if you are lost in London after midnight when the London Underground services are no more available, take the night bus to Trafalgar Square and from here you can find buses to any destination as all the night busses pass through this square.
Piccadilly Circus has good restaurants, movie theatres, and clubs but my advice would be to keep your money safe while visiting Soho.
I planned a full-day visit to the natural history museum because less than it wouldn't satisfy my thirst for exploring the evolution of our world. I took the westbound District Line White Chapel to Gloucester Road Station. There I passed by Cromwell Hospital where Madam Noor Jahan, Ustad Nusrat Fateh Ali Khan, and rumour has it, Ibne Insha too were treated for their illness in their last days of this ephemeral world!
The fossil skeleton of the majestic Tyrannosaurus Rex was my long-awaited sight as I am an ardent fan of dinosaurs since my childhood, and the Natural History Museum is an interesting place to visit. You can learn a lot about the formation of the Earth and the development of all lifeforms on the planet with preserved specimens of species. Here I experienced ' Earthquake simulation which was a unique experience. I saw a lot of students by the evening who were taking notes and drawing sketches of the specimens and might be working on some school projects or educational tours.
In the evening we went to the theatre at Victoria and watched the famous musical 'Les Miserables'. I liked it all of it very much – the set, the performance, and the story were marvelous. It was a story of an innocent con man who escapes and changes his identity and adopts a helpless child while being chased by a resilient police detective. The story goes traces the timeline of the French Revolution and ends happily for the girl and our hero.
We then went to Edward Road for some Arabian food as a lot of Arabs especially Moroccans live there. You can buy Arabic newspapers from many corner shops there. We enjoyed Halal Donner Kebabs, famously known as shawarmas. Both chicken and lamb dinners were delectable – its barbecue-type meat wrapped in pita bread served with salad, pickles, and some sauces. Halal food is not easily available in tourist places in London, and you have to search for Indian or Arabian restaurants to get that authenticity. My experience of the Edward Road dinner is available in a fun vlog on "Adeel the Tourist" on YouTube.
You can find the real address of imaginary Sherlock Holms and the 'wax images' of real people at Baker Street. Madam Tussaud's is a must-go place to visit. It is enjoyable for all ages. You can see famous people and characters face to face. The life-size statues are close to perfection sometimes being difficult to distinguish between real people and wax people. You will meet some actors who surprise you as you see a wax statue come to life and move out of nowhere!
I was scared by such a character of an executioner holding a decapitated head and a chopper in the chamber of horror. You can take memorable pictures here. I made a vlog on Madam Tussaud's which you must watch on my YouTube channel "Adeel the Tourist".
Lady Diana's affair with Dodi Al Fayed made Harrod's more famous than ever as it was owned by the father of Dodi Muhammad Al Fayed, in those days. It is said that shopping for the Buckingham Palace kitchen used to be done from Harrod's, one of the most prestigious shopping centers in the world. It is an expensive place to shop from, but I will suggest you avail 'the boxing day sale' early morning for discounted prices.
At the beginning of the new millennium, surrounded by fear of computer virus Y2K, the UK government of Tony Blair decided to give three gifts to the Nation – Millennium Dome, Millennium Bridge on the river Thames, and London Eye, the humongous Ferris-wheel – the latter is the most successful among the three. It is quite an experience while taking a 360-degree panoramic view of London at a very convenient pace of rotation.
London is a place full of attractions and livelihood, a true cosmopolitan full of history and fun. A single article isn't enough to describe my experience of London but I would love to add more to it  in the near future. (Edited by Khadijah Kamili)
Also Read: Commendable Role Of Malaysian Law Enforcement Agencies