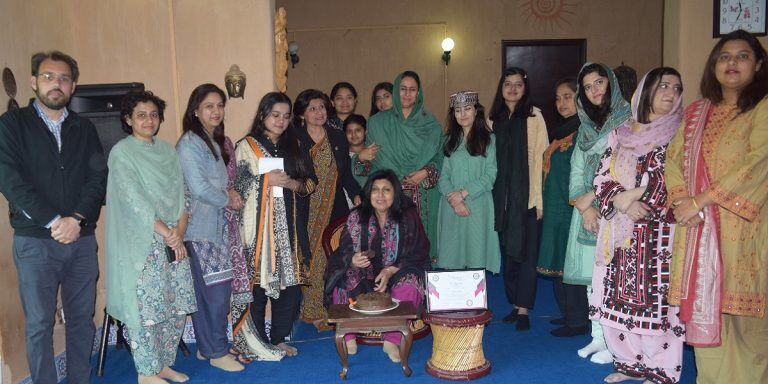 MEHERGARH: Mehergarh, a Center for Learning successfully concluded a four-day residential Advanced Women Leadership Training.
Dr. Fouzia Saeed, a renowned Human Rights activist, Author, and the founder of Mehergarh, was the facilitator of this training.
The training was based on her latest book, TAPESTRY: Strands of Women's Struggle Woven into the History of Pakistan. The book offers a historic perspective on the role of women in shaping the political history of Pakistan and highlights their struggles and contributions.
The Advanced Women Leadership Training aimed to empower women leaders and equip them with the necessary skills to strategize the challenges of leadership in their respective fields.
Dr. Saeed's book covers the history of Pakistan starting from 1940 to about 2018.
She had divided it into seven different eras that she calls STRANDS in her book and discusses the role women played in each of these strands. She also talks about the strategies women leaders used in each of these eras based on the political scenario and what's needed to be done.
Dr. Fouzia Saeed said that she wrote this book because the next generation needs to know who Pakistan's women leaders were and their contributions. She stated that "I am pleased with the success of this training program and the commitment shown by the participants to advance women's leadership. Women leaders have to strategize mindfully, keeping in view the realities around and strategize accordingly. Strong alliance building and utilizing technological advancement will help in contemporary era."
Ms. Ambreen Ajaib, Executive Director Bedari, who is covered in the book, interacted with the participants and shared her experiences of AASHA Movement and Bedari – the first crisis center of Pakistan, started by Dr. Fouzia Saeed.
Maliha Husain, Executive Director of Mehergarh: A Center for Learning, who is also covered in Dr. Saeed's book shared her experiences of Alliance Against Sexual Harassment (AASHA) and implementation of sexual harassment law.
The program brought together a diverse group of women leaders from Rawalpindi Islamabad, Rawalpindi, Lahore, Quetta, Multan, Gwadar, Kalat and Ghizer; including government officials, civil society activists, and academics.
The training provided a platform for participants to learn from each other's experiences and to build a network of like-minded individuals committed to work on the issues close to their heart.
The participants appreciated the opportunity to learn from Dr. Fouzia Saeed's extensive experience and knowledge in the field of women's rights and leadership. They expressed their gratitude for the supportive and inclusive learning environment created by Mehergarh.
Read more: Anwar Maqsood's wife launches book 'Doosri Mulakaat'